GIC Felidae v.Tim-Est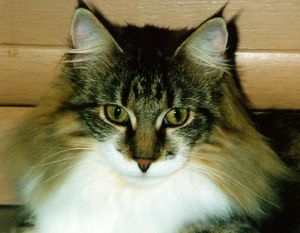 From the promising youngster of the year 1997 and precocious teenager of the year 1998 has become a young lady with incomparable charm. She is the image of her father - EC Bergansius Magusan. Felidae is very large; already at 9 months she is the size of her mother. Her coat texture is excellent with a warm brown color that compliments her long, bushy tail, perfect triangle head and big ears with lynx tips and huge tufts.
Her large paws give her the additional nickname of "Missus Moonboot"!
Felidae easily gained her points at her first show in the open class and was nominated for BIS with her first trophy and certificate! But her successes didn't stop there. In the middle of the year she became a first time mother, choosing the wild-looking Casper v. Jotunheimen for a mate. She enjoys her role as a mother very much, playing and carousing with her kittens, who inherit their mother's wonderful type and sweet personality and carry on our goal of breeding large, original type Norwegians with excellent coat quality.


Please click on the pictures below to enlarge!