IC Diana v.Tim-Est
born 24. June 1996
died 15. March 2006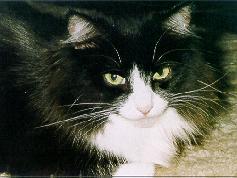 The first litter of European Champion Bergansius Magusan and European Champion Pletskud Felis Jubatus included a black mackerel tabby/white male, a black classic tabby/white male and a black/white girl. This "small" lady quickly wrapped herself around my husband's finger with her charm and became one of our breeding-cats. Diana has an excellent coat and is a very well-rounded Norwegian Forest Cat. For a female she is a very good size and has an excellent weight of 4.6 kg.
Unfortunately, Diana can only rarely be shown due to a longstanding habit of tearing out her tail fur with each "heat cycle" . It takes nearly a year for her coat to grow back in, but thankfully she prefers the care and breeding of kittens to a show career! Her litters are very harmonious and represent our ideal Norwegian Forest cats with excellent coat quality, big size, original type, and of course, very affectionate personalities.
Unfortunately at the end of the sixth week of 2006, my wonderful matriarch was diagnosed with mammary tumors which had already spread into both lungs.  Diana would become an unspayed pensioner, because it was too risky to spay her.  I tried to stop the cancer spreading and began a homoeopathic therapy plan.  On the first day, she received a mixture of D7 and Mucokehl 1ml Niger-San D7 subcutaneously; on the second day, nothing; on the third day, 0.5ml NeyDils Nr.66 dose level 1 (formerly NeyTumorin); on the fourth day nothing, and then back to the beginning again.  After consultation with VitOrgan, I altered the therapy-plan.  On the new plan, she received an ampoule of NeyDil every day, on the first and second day dose level 1, on the third and fourth day dose level 2, and on the fifth day dose level 3.  Two days pause and then an intramuscular injection of an ampoule of NeySol L66, until she had had at least ten ampoules.  I had hoped that many beautiful painless hours, days, weeks, months or years would be in store for her.
On the 13th of March, Diana  fell off the windowsill, and the tumor started to bleed.  We considered operating.  She had an appointment with the vet the next morning at 8:40.  Her lungs were x-rayed again. Unfortunately, the cancer had grown in the three weeks since her last x-ray.  In the earlier x-ray, we had seen spots, but now the lungs looked like an alien organ. Everything was dark, with only scattered individual lighter areas.
We had lost the fight.
On the 15th of March, at about 11:03am, Dr. Bartels made possible a beautiful crossing for Diana, if one can call such things beautiful.  She fell asleep very peacefully and is now pain free and young again on the other side of the rainbow bridge.
I took this last picture minutes before she crossed into a world where she will always be young and healthy.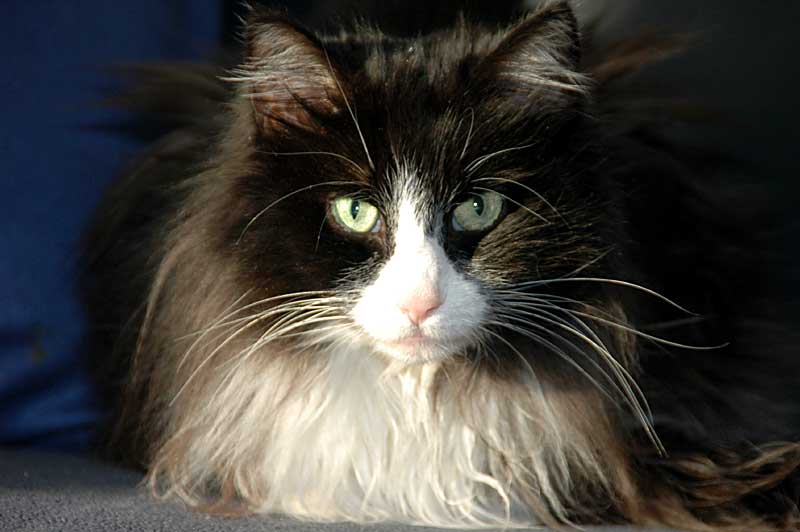 You can shed tears that she is gone
or you can smile because she has lived.

You can close your eyes and pray that she'll come back
or you can open your eyes and see all she's left.

Your heart can be empty because you can't see her
or you can be full of the love you shared.

You can turn back on tomorrow and live yesterday
or you can be happy for tomorrow because of yesterday.

You can remember her only that she's gone
or you can cherish her memory and let it live on.

You can cry and close your mind, be empty and turn your back or you can do what she'd want: smile, open your eyes, love and go on...



(written 1981 by David Harkins 1959 - Silloth, Cumbria, UK)