EC Lisa v.Tim-Est
born 24.April 1989
died 13.April 2002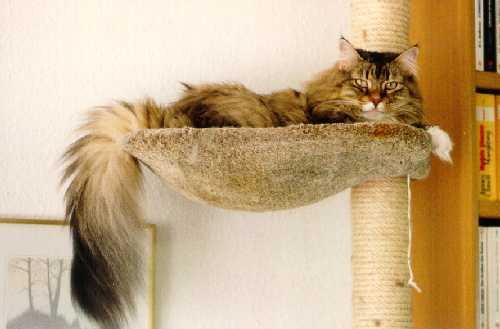 black mackerel tabby/white
| | |
| --- | --- |
| August 1989 | August 1989 |
| April 1996 | January 1996 |
| March 2002 | March 2002 |
When the time has come

When I´m frail and weak one day
and excruciating pain keeps me
constantly awake
What you have to do then - do it alone.
The last battle will be lost.

I very well understand that you are sad
your hand should not hesitate with worry
On this day - more than ever before -
your friendship has to stand its ground
against the seriousness.

We were living together in years full of joy,
afraid of the must? There is no turning back.
You don't want me to suffer from it.
So please let me go, when the time has come.

Accompany me to where i have to go.
Please just stay with me untill the end.
And hold me tight and encourage me,
until my eyes come to rest.

In time - I'm sure - you'll know
it was your love, that you gave to me.
A familiar waving for the last time
you have set me free from pain and agony.

And don´t grieve when you too
are one day master of this hard decision.
We were both so tenderly united
and your heart must not cry for me.