EC Bergansius Magusan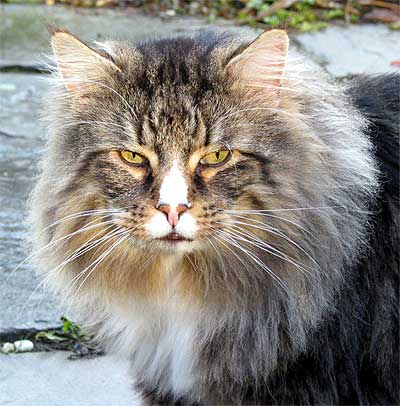 Pedigree
Magusan and his sister Nehalennia come from a long ancestry of outstanding Norwegian Forest Cats and one of the most respectable breeders in the Netherlands.
EC Nehalennia is the mother of the FIFE / WWK-98 and WW00 GIC Skakmat Felis Jubatus and the FIFE / WWA-99 Remis Felis Jubatus. The kittens of her brother Magusan, while just as deserving of awards, are almost all enjoying their lives as happy, spoiled pets.
EC Magusan is called Leonardo due to the white markings on his nose, just like a painter. He is big and strong and carries a long body on high legs with impressive paws and also has a good triangular head with a long, straight profile, good chin, and well set ears with lynx tips and large tufts. His fur has an excellent texture with warm brown coloring and a lovely tabby pattern, and his long tail completes the picture of a classic Norwegian Forest cat.
At his first show in Germany he became Best Overall Cat with several BIV and BIS achieved since then and yet another Best of the Best. This affectionate, wild-looking boy carries both classic and non-agouti and occasionally works as a charming "playboy" with healthy, tested ladies. He passes his sweet, balanced nature along with his wonderful coat and size to all his kittens. We at Tim-Est are very lucky to have Leonardo as a wonderful example of the breed to help us achieve our highest breeding goals.